This is the official web site of the Somerset County Archery Association.
All GNAS (Archery GB) affiliated clubs of Somerset are listed on this site. You will find entry forms for tournaments held in the county, as well as information on county records, county teams, postal competitions, and even items for sale.
NEWS
SCAA Council Meeting
The next Council meeting is on Wednesday 24th October 2018, 7:30pm.
The venue is Tor Sports and Leisure Centre, Street Road, Glastonbury BA6 9EF.
All members of the SCAA are welcome to attend as an observer, and each club is expected to send a representative.
Here is the Agenda.
Somerset Postal Competitions
There are big changes in the Postal competitions this year. Both Frostbite and Portsmouth competitions will start in October and run through to March 2019. Please read the new rules with respect to elegibilty to shoot for a given team, which has been clarified.
NOTE: The Portsmouth competition will now include bow type equivalence tables similar to the Frostbite competiton. These have not yet been added to the website and will be available before the end of October for use.
Any queries please contact the organiser.
Archery GB National Junior Rankings
All Junior archers who wish to be included in the National Junior Rankings this year will need to submit up to three scores, for the appropriate rounds shot up until the 7 October and send to Archery GB by the 20 October using the official form. Any archers sending their details to Archery GB , should also email a copy to the County Junior Representative Martin Hutchins.
World Field Archery team for 2018 includes James Annall from Bath Archers
Many congratulations to James Annall who has been selected to shoot for Great Britain at the World Field Archery Championships in Italy from 4th to 9th September.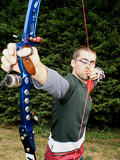 James started shooting in Sept 2008 shooting Target recurve. Started giving barebow a try from Nov 2009, switching between RC and BB every couple of weeks that indoor season, then stuck with BB from April 2010. First gave Field a try in July 2011 and loved it ever since, quickly taking over from Target shooting during the next couple of years. He particularly enjoyed the venues, the variety of target positions, and the challenge that each target brings, all at a relatively short distance compared to Target (for Senior Barebow 2/3 of all the targets in a weekend are between 5 and 30m, and a maximum distance of 50m) This will be his 5th GB cap, first getting onto the team in 2014. He's really looking forward to being back on the team, after not meeting the selection criteria last year. His best result to date has been 16th at European champs 2015 in Poland.
Good luck James.
Affiliation Fees
Details of calculating affiliation fees, how to pay to SCAA and GWAS are now available here.
Level 1 Coaching Course
If you are interested in undertaking a level 1 coaching course, a new course will be running early 2019.
Day 1 - 6th January 2019
Day 2 - 3rd February 2019
Day 3 - 3rd March 2019
Assessment - 7th April 2019
The cost is £275 per person.
Venue is Saltford Scout Hut, Chelwood Road, Saltford, Bristol BS31 3BU.
All enquiries to Rob Bitton.

World Archery Rule Changes
World Archery Field and 3D rules have been amended from the 1st April. Details and guidance on their interpretation available here.
Archery GB Field Archery
Archery GB have launched a new website dedicated to field archery here.
Archery GB - Rules of Shooting.
Archery GB have made changes to the Rules of Shooting effective from 9th April 2018:
Note that one change relates to Rule 306, scoring.
A full download of the new rules is available here.
A download of just the changes is available here.
Schedule of SCCA Meetings
A schedule of future meetings for the SCAA is now available here.
2018 Tournament Results
The resuts of the latest tournaments are available here.
Competitions Need Judges - how about becoming a judge?
Without judges, no competition can take place and, in Somerset, judges are few and far between. Why not join this select band? Whether you are a competition archer or only shoot for fun, judging is a way to put something back into the sport you love. AGB has put an introduction to judging on their website, if you are interested, please click on this link.
If you would prefer to see what is involved without commitment, please email me and I will try to arrange for you to 'shadow' me at one of the forthcoming competitions.
2018 Tournaments - Entry Forms
Look at the Tournaments Diary for the latest details, and entry forms.